W1 Quick Detailer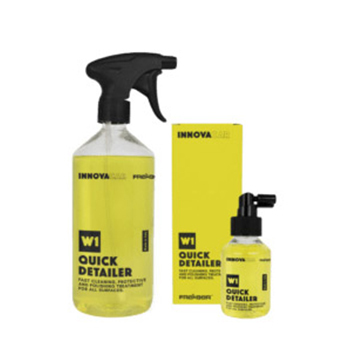 W1 Quick Detailer
Product Description
W1 is a fast and effective multi-purpose cleaner, suitable for easy cleaning and protection of the inner and outer surfaces of cars. Its unique formula increases gloss and water resistance, with a silky effect to the touch. W1 is a great support during the drying phase as it reduces the risk of limescale stains on the surface.
DIRECTIONS FOR USE
Spray W1 2-3 times directly on the dry or wet surface, or on a microfibre cloth, then spread and wipe with a microfibre cloth. The product is fully activated 7 hours after application.
WARNING
The product should not be applied on hot surfaces or in direct sunlight.
CONSUMPTION
100-150 ml/car.
---
| Packaging | Box | Code Item |
| --- | --- | --- |
| 100 ml | 6 pcs | 79300 |
| 500 ml | 6 pcs | 79301 |
| 4,5 lt / 1,2 U.S. gal / 153,52 Fl.Oz | 4 pcs | 79302 |