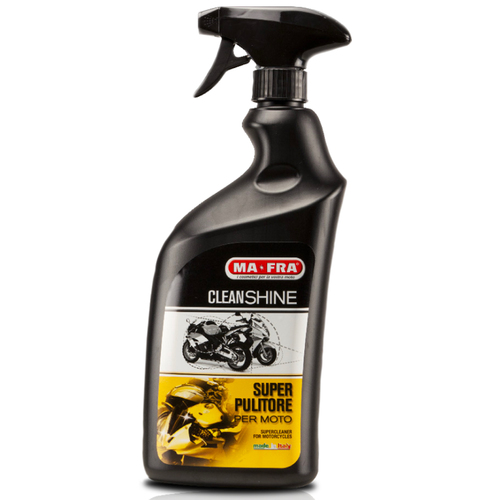 Cleanshine - Bike Wash and Care
Price And Quantity
Product Specifications
Superdetergent for Motorbikes

Motorcyle
Product Description
The name CLEANSHINE immediately highlights the strength of this product, its incredible "two in one" effect: clean and shine.
CLEANSHINE is a super-cleaner for MOTORBIKES and SCOOTERS developed in the MA-FRA R&D laboratories alongside experts from the largest motorbike manufacturers and technicians from team partners involved in the Superbike and Grand Prix.
A few sprays are enough to brighten all treated parts without having to scrub or brush, simply rinsing with a strong jet of water washes away both product and dirt.
CLEANSHINE is gentle on plastics and rubber, does not damage the electrical systems, cleans all parts of the engine, carburettor, chain, rims and chassis eliminating grease, oil, petrol, mud and insects.
Thanks to it special formula, it is also perfectly safe on delicate surfaces such as carbon, aluminium/magnesium alloys and any other "exotic" alloy.
CLEANSHINE, apart from being the undisputed best cleaner on the market, forms a protective film on treated parts that holds off rust and corrosion, noticeably lengthening the "lifespan".
This product also follows the Ma-Fra design philosophy to the letter: great technology for an unbeatable result.
CLEANSHINE is sold in 750ml containers equipped with spray nozzle.
Contact Us
238-A, Adhyaru Industrial Estate, Sun Mill Compound, Lower Parel (West), Mumbai, Maharashtra, 400013, India
Phone :91-22-24984040